#5and5 Wedgislation
This was a week of extremes, with the best and worst of our parliamentary system on full display. Which was helpful when you want to write about the best and worst things that happened. So here it is:
BEST
Graham Freudenberg

Tim Fischer

Economy questions

Bowen builds a barridcade

Labor first speeches
WORST
"Wedgislation"

McCormack's Meltdown

Angus Taylor

Gladys Liu

Dutton and Porter push their luck with the Speaker
BEST
Graham Freudenberg worked as a speechwriter for Arthur Calwell, Gough Whitlam, Bob Hawke, Neville Wran, Barrie Unsworth and Bob Carr. So many of our proudest moments as Labor supporters involve speeches that started with Graham's pen. His recent funeral was private so Anthony Albanese stood up on Monday night to deliver a public tribute to Australia's greatest speechwriter. I don't want to delete a single word, so I've added the full speech to the end of this email.



Monday's Question Time was cut short so that tributes could be given to former Deputy Prime Minister Tim Fischer. They were good and honest tributes focussing strongly on the role he played in the gun control laws that were introduced following the Port Arthur massacre.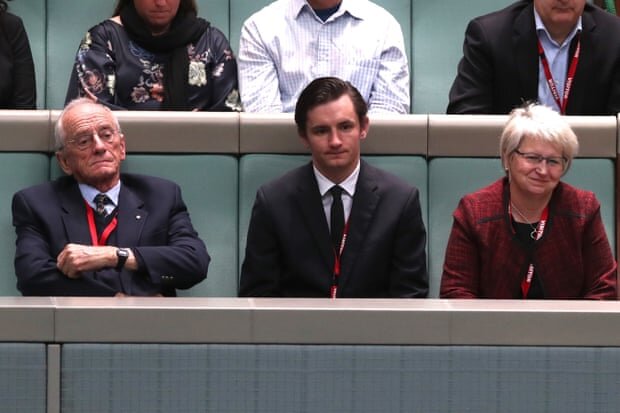 Members of Tim Fischer's family watch the tributes in Parliament on Monday - The Guardian / Mike Bowers
3. Every day this week we started Question Time by focusing on the economy. Anthony Albanese and Jim Chalmers led the attack, highlighting that Australia now has the slowest growth since the Global Financial Crisis and the slowest wage growth in history. Linda Burney asked about support for pensioners, Brendan O'Connor focused on wages, Tanya Plibersek pushed the need for more apprenticeships in the face of skills shortages and Catherine King asked about the government's refusal to bring forward infrastructure projects.

4. It was all very Les Miserables. It's fairly common for MPs to wave around a few hundred pages of a petition during a speech to show an indication of public support. But what Chris Bowen did was, well, let me say, "next level". He had received so many petitions calling for the Health Minister Greg Hunt to list flash glucose monitors on the National Diabetes Services Scheme that he arrived with full boxes of petitions. While he was speaking box after box of petitions was handed to him by Matt Thistlethwaite, Jim Chalmers, Linda Burney and Graham Perrett. They started to form a barricade and by the end of the speech, depending on where you were sitting, there were so many boxes of petitions that Chris had disappeared from view. Chris had well and truly made his point and unusually, the Government agreed to the documents being tabled.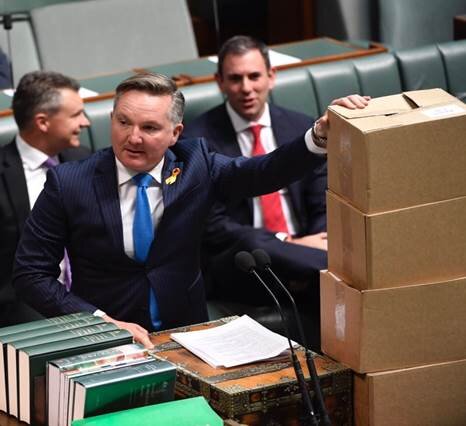 Chris Bowen tabling his petition - The Guardian / Mike Bowers
5. All the new Labor members have now delivered their first speeches. This week we had Libby Coker in the Reps and Marielle Smith and Jess Walsh in the Senate. I've attached links to the speeches below so you can watch them. You may also spot former PM Julia Gillard in the Senate during the first speeches there. In her final press conference as PM Julia told the media they needed to take down the name of her staffer Marielle Smith because they were going to need it later. It was great to have Julia back in Parliament House watching her prediction come true.
Libby Coker
Marielle Smith
Senator Jess Walsh
WORST
On the weekend before Parliament returned Scott Morrison made the extraordinary admission about why he was bringing legislation to the parliament. It wasn't to advance the national interest. It wasn't to try to make employment more secure. It was purely an attempt to play a political game against Labor. He referred to it as "setting tests" - which simply means wedge politics. For those who like golf, Anthony Albanese explained on Monday that the economy needed drivers but the Government was only using wedges. We've taken to calling these Government bills "Wedgislation".




From zero to 100 in but a moment … That's what happened to Michael McCormack, the little known Leader of the National Party and current Deputy Prime Minister of Australia. He was giving a fairly calm answer about drought when he mixed up his words and referred to a bipartisan decision being taken by the Government. A few people smiled and commented that if a decision is bipartisan it probably didn't only involve the Government. All of a sudden he lost it. He looked straight at Labor's Joel Fitzgibbon and - well - saying he became angry doesn't really do the moment justice. We know a lot of Liberals like nuclear power and McCormack provided his best impression of a nuclear explosion. Click on the photo below to watch the whole bizarre performance.

A couple of days later his Nationals leadership rival David Littleproud put on an equally bizarre performance. The Minister with responsibility for natural disasters made international headlines this week when he said in a TV interview that he had "no idea" whether man-made climate change was real. When Labor's Justine Elliot asked him about this extraordinary statement in QT he backpedalled, claiming his TV interview had been interrupted by a parliamentary vote and he hadn't had time to clarify his position. The only problem is that's not what happened at all: interviewer David Speers clarified Littleproud's position three times and there was no interruption at all. Oh, and then he doubled down on his climate denialism in a later written answer to a different journalist. Labor MP Graham Perrett interjected that it was a case of: "The dog did my homework".




Remember all the times Angus Taylor told us there was no conflict of interest when he was lobbying the environment department over endangered species in his electorate? Well Terri Butler revealed in a series of questions on Tuesday that in a regional radio interview - that he no doubt hoped no one would find - he had actually conceded the people he was representing included himself. Anthony Albanese called on Scott Morrison to do what he should have done months ago and sack Angus Taylor.




This story is still developing quickly so I won't go into too much detail. But on Tuesday the new Liberal MP for Chisholm, Gladys Liu, was interviewed by Andrew Bolt and first refused to back government policy on the South China Sea and then claimed to have no involvement with a series of organisations. The next day in a media release that was reportedly prepared in the Prime Minister's office, her version of events changed radically. It's only a breach of privilege if you lie to the Parliament so Mark Dreyfus moved that Gladys Liu should be given twenty minutes to make the same comments in the chamber. The Government, including Scott Morrison and Gladys Liu herself, voted against her speaking. Scott Morrison then tabled the media release on Thursday. At the end of Question Time the Speaker confirmed that if there is an inaccurate statement in a document that was tabled by someone else, there are no consequences for whoever made the statement. The easiest way for the government to resolve this is for Gladys Liu to make a clear statement in the Parliament. That way there are real consequences if she provides false information.




It's been interesting to watch the behaviour of Government Ministers towards the Speaker since Christopher Pyne left. Peter Dutton continues to ignore previous rulings and bully his way forward to say whatever he wants, regardless of the question he's been asked. It's odd but he seems to think the rule is that comments are automatically in order if they are made by Peter Dutton. On Wednesday the Speaker made clear the rules are a bit different to that and sat him down in the middle of an answer.

To be fair, Dutton is Dutton. We don't really expect nuance. It's another thing altogether when Christian Porter, who is the new Leader of the House, decides his role is to be as patronising as possible to the Speaker. On Wednesday during a point of order he started telling the Speaker on which points his rulings had been correct. The next day he started trying to make his own rulings during a point of order. Now I'm the Opposition guy with the same job and I'd never try that one. The Speaker suggested the best thing Porter could do was to sit down immediately. After a moment's pause, Porter realised he wasn't exactly helping himself and sat down.
There will be a lot more to report next week when some of the "wedgislation" starts to advance through the Parliament. The Senate hearings on the anti-union anti-worker legislation started last night. And while it is really hard to get amendments through in this Parliament because of the Senate numbers, our amendment to improve press freedom on animal welfare issues was successful.
I'll be back next week,
Tony
ALBO'S SPEECH ON GRAHAM FREUDENBERG
Graham Freudenberg climbed inside the soul of the Australian Labor Party in search of the words that lay there.
He came back to us with an entire language.
When Freudy said the Labor Party was built on speeches, the identity of the master builder was never a mystery to the rest of us.
He spoke to us in so many voices, but in each of them he spoke with clarity and power.
He moved us, he persuaded us, and in a world where words barely outlast the moment in which they are spoken, he made us remember.
It was Arthur Calwell who scored the accidental jackpot when he hired the young journalist, one who had figured out that he loved words and their power to convey ideas so much more than he loved reporting.
It was Calwell who was the recipient of the words that filled Graham with his greatest pride: warnings about the Vietnam war; warnings that broke free of the gravitational field of regular political rhetoric.
Instead, Calwell was able to persuade his audience to envision the voice of right and reason overpowered by martial trumpets and drowned out by the hypnotic drumbeat of war.
Vietnam was a very modern conflict, but Graham gave Calwell's warning an unsettling, almost biblical power that somehow managed to enlist the breadth of human history to the cause.
As history went on to show, his instincts were right.
Calwell was followed by a constellation of Labor luminaries, among them Bob Hawke, Neville Wran, Bob Carr, Barry Unsworth and, of course, Gough Whitlam.
Each of those leaders found themselves armed with an alchemist, one who took the sometimes base materials of campaign, policy and political instinct and turned them into something precious that went straight into our hearts.
Perhaps it was fitting that a man with such powers preferred to keep unusual hours.
There were many fuels that powered Graham through his long working nights.
Lincoln kept him company, as did Churchill, Voltaire and Disraeli, along with a production line of cigarettes.
And, of course, there was the great trinity of Beethoven, the Bard and a beer.
You can't argue with the result, even when it happened incrementally.
According to one calculation, Graham sometimes steamed along at just three words per minute.
That's the sort of speed that might be familiar to scientists who study the movement of tectonic plates.
But, as those scientists would remind you, tectonic movement can push up entire mountain ranges.
Graham gave us so very many peaks.
We can only imagine how things might have turned out if Graham had succeeded in being elected to the New South Wales parliament in 1991.
But, with all due respect to the denizens of that great place, there's something fitting about Graham having been left free to serve the way that he did.
His name will be forever associated with the Australian Labor Party and all that it has always sought to be.
He channelled his love for his country through his love for this party.
Indeed, there is a line from Graham's eulogy for Gough that fits its author just as perfectly: He believed profoundly in the Australian Labor Party as the mainstay of Australian democracy and equality.
Labor's best instincts were Graham's instincts.
As he toiled through the quiet, dark hours of so many nights, he kept brightening that light on the hill to make sure that every Australian could see it.
Graham may be gone, but his glow remains. Take a moment to picture him, perhaps with a beer in one hand and a pen in the other, in splendid nocturnal isolation but never alone; perhaps as an 11-year-old boy killing time during a bout of chickenpox by falling in love with the words of Disraeli; perhaps he is at Blacktown civic centre in 1972, Gough's hand upon his shoulder and Gough—inasmuch as Gough could whisper—whispering in his ear, 'It's been a long road comrade, but I think we are there'; or perhaps you'll picture him much more recently, offering this wise reassurance in the final pages of his memoir: 'If I have learnt anything in 44 years of political life, it is never to despair.'
So we feel sadness now at his loss, but not despair.
Graham's words stay with us forever.
To Graham's long-term companion, Tom Kusano, I say: you are always in Labor's embrace.
As for Graham himself, it was an honour to have worked with him in Bob Carr's office for a short period of time.
May he rest in something far more wonderful than mere peace.